Ring Stacking Guide: The Top Do's and Don'ts for Stacking Rings
Alicia Briggs | September 20, 2023
Alicia Briggs | September 20, 2023
The combinations are endless for diamond stacking rings, whether the stack is created from a wedding ring set or fashion rings. Some jewelry designs featuring VRAI created diamonds stack better than others, however, especially when pairing an engagement ring with a wedding band. In this ring stacking guide, discover how to mix and match your favorite rings for a fashion-forward look that is uniquely yours.
Stay in touch and enjoy €100 off
Sign up for email or text and receive €100 towards a VRAI purchase over €750.
What Is Ring Stacking?
Stacking rings refers to wearing several rings together on one finger. Ring stacking may look like stacking an engagement and wedding ring together, or stacking multiple fashion rings together.
What Kind of Rings Can You Stack?
The most common types of rings that are stacked together are engagement and wedding rings. However, you can stack any kind of ring you'd like, but certain designs will look better together.
It's important only to stack rings that will pair flush, or that don't rub against each other. Some ring designs are harder to layer and may cause abrasions or scratches when stacked.
How to Stack Rings: The Do's and Don'ts
How to stack rings will depend entirely on the rings you're stacking. The most important thing to consider is that different styles of rings may or may not layer together. For example, a classic solitaire engagement ring will likely pair flush with a traditional straight wedding band. Other ring styles might feature a curved band or diamonds that would rub or scratch against when worn together.
Use the information below to learn how to stack rings, no matter the style or design. For personalized advice on stackable diamond ring sets, speak with a VRAI diamond expert.
1. Decide How Many Rings
The easiest place to start when creating a ring stack is to decide how many rings you'd like to stack, and on how many fingers.
There isn't a set number of rings that you can stack. It really comes down to personal preference and overall balance. Too many rings will look cluttered and busy while too few rings or unintentional spacing can create an awkward or bare look.
To create optimal symmetry and balance, try to space your rings across different fingers and leave a few fingers bare.
Do:
Prioritize balance and comfort.
Choose an uneven number of fingers to wear rings on (one, three, five, etc.).
Pick a primary stack and contrast it with simpler, smaller stacks on the surrounding fingers.
Create different ring stack heights.
Don't:
Wear rings on every finger.
Stack too many rings.
2. Choose Ring Sizes
Knowing your ring size is perhaps the most important part of creating a ring stack. This ensures a seamless stack that feels comfortable to wear. Keep in mind that each of your fingers, and the different parts of your fingers, will have different sizes.
If you don't know how to find your ring size, order a complimentary VRAI ring sizer. Then, consider the width of each ring and how many rings you're stacking. Many choose to go by the ring size of the finger they plan to stack their rings on. This way each ring will fit securely and snugly without rubbing against the other rings.
Play around with your rings to find out which rings fit best where and stack accordingly. For rings with wider bands (2mm or above), you may prefer to size up for a more comfortable stack. If your rings don't fit, the stack will not only be uncomfortable to wear, but it could damage your rings and look undesirable.
Do:
Know your ring size.
Choose rings that feel comfortable to wear when stacked together.
Know which ring fits best on which finger and part of the finger.
Mix and match bandwidths.
Don't:
Stack rings that don't fit - too loose rings can spin around, create gaps, or rub against your other rings while too tight rings will squeeze and create a "muffin top."
Create a ring stack that is too high or too low - your stack should stop at a desirable point.
Use only rings with the same width.
Get your complimentary ring sizer!
Measure your ring size for the perfect fit right from the start.
Get yours today
3. Pick a Common Theme
The trick to a cohesive ring stack is to pick an overarching theme. This will help give your stack a balanced look, even if you have different designs or colors. Start by picking a matching diamond shape, metal color, or combination of colors that you love to wear. Don't be afraid to experiment with what you like.
Do:
Choose to match one of the following to create a common thread: metal color, diamond shape, or ring style.
Create contrast and accents by stacking rings with varying widths or textures.
Build your theme around the primary ring in your stack as that ring is the focal point and the rest of your stack should enhance it.
Don't:
Choose rings with all matching details - some contrast is key.
4. Select Complimentary Metals & Colors
Creating harmonious contrast is the key to a beautiful ring stack. While choosing the same colors will undoubtedly match, mixing in one or two different colors will enhance your ring stack and show off your personality.
Do:
Choose a primary metal color and mix it with one secondary metal color or accent color.
Consider your skin tone and outfit when choosing your main color - it should complement your look, not clash.
If wearing multiple ring stacks, use the same color palette for each stack so that the overall look remains cohesive.
Use white diamonds or neutral gemstones. If you prefer colored diamonds or stones, stick to one or two different colors.
Don't:
Use too many different colored diamonds, gemstones, or metal colors.
Choose colors that clash with your outfit, your style, or your skin tone.
Stack different types of gold next to each other. Harder metals will scratch softer metals, i.e. 14k rose gold with 18k white gold.
Only mix metals or colors on different fingers. It's best to create contrast within the same stack.
5. Consider Ring Design & Style
Once you've chosen your rings, your theme, and your colors, it's time to create your stack. When deciding which ring to stack with which, consider the design and style of the ring.
Certain edges, widths, and diamond shapes will match up easier than others. You don't want to stack ring designs that will rub against each other, potentially chipping any diamonds or scratching the metal. You also don't want to choose designs that clash such as stacking too many statement pieces or diamond-forward rings.
A ring stack will always feature a base. This is your primary ring, such as your engagement ring, or favorite statement ring. The rest of the stack should be built around this ring.
Ring stacks tend to include accent rings which will surround your main ring, and enhance its beauty. If you're stacking a wedding ring, this would usually be "the accent" to your engagement ring and sit above or below it, depending on the design. Bypass or cuff rings are also ideal accents for a stack.
Ring stacks can also include a wide, chunky, and/or horizontal ring to add texture, balance, or a little color to the design. The Rope Band, The Brushed Bevel Band, and Knife-Edge Bezel Ring are great examples of a variety of simple stacking rings that add texture and varying widths.
Some ring stacks end with a crown (The Signature V or The Petal Crown Band). The curve of a crown beautifully completes the stack.
Do:
Use curved bands to frame center diamonds or create space in the stack.
Contrast curved and straight bands.
Mix and match different diamond shapes.
Don't:
Be afraid to create gaps. Intentional space will prevent crowding.
Stack too many statement pieces or diamond-forward designs next to each other or on one finger.
6. Position Rings Correctly
Now that you've chosen your primary rings to stack, it's important to position them correctly on your fingers. If you're stacking rings on multiple fingers, you should always stack your rings in triangles. This looks like a low stack on the right and left, with a high stack in the middle, or a high stack on the left and right and a low stack in the middle.
Creating a triangular shape across your fingers ensures symmetry and balance.
Do:
Use simpler and fewer ring stacks to frame your tallest stack(s).
Position chunkier rings next to thinner bands, or textured bands next to plain bands.
Don't:
Be afraid to experiment with varying heights for your stacks.
Stack rings that will rub against each other.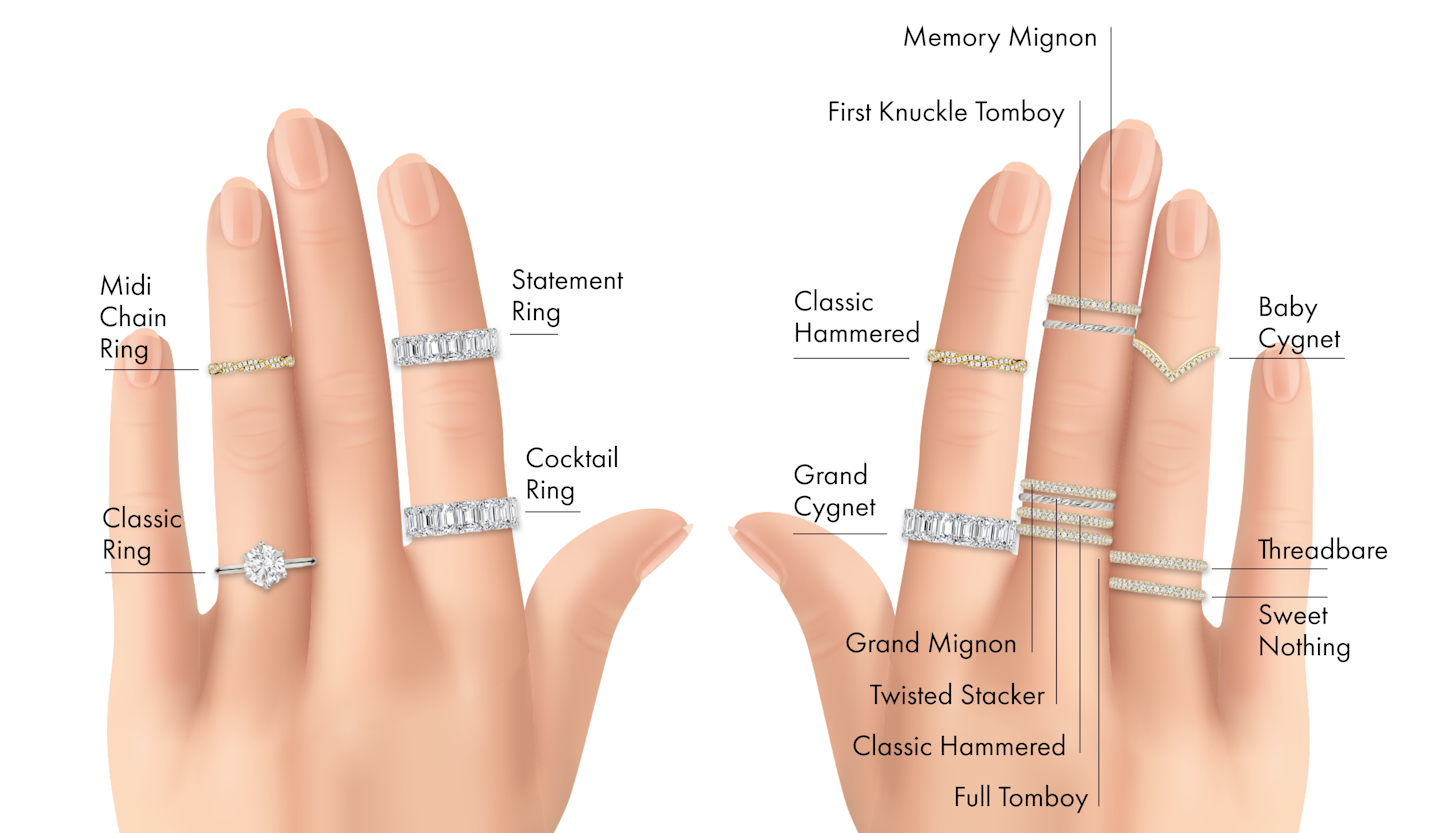 How to Stack Wedding Rings With Engagement Rings
If you plan to stack your engagement and wedding ring together, consider the following:
Choose a wedding ring set.
The easiest way to stack your rings is to buy a wedding ring set when first selecting your engagement ring. VRAI offers numerous matching engagement and wedding ring designs to easily and beautifully pair your rings. Our diamond experts can also help you create a personalized stack.
Consider the center diamond.
If you already own your engagement ring, consider the diamond shape when choosing your wedding band. A Round Brilliant, Cushion, or Asscher center diamond won't likely get in the way of most wedding ring designs. But, with elongated diamond shapes (Marquise or Pear), the points of the diamond might not line up perfectly with certain bands. For elongated shapes, consider curved wedding bands or thinner bands that can tuck underneath the diamond.
Line up the edges.
The different edges, widths, and curves of certain settings must be taken into account for stacked engagement rings. Select a wedding band that will pair flush with your engagement ring or that allows appropriate space for any curves or details.
Choose complementary colors and styles.
You can mix and match your metals or diamond shapes. But, as with any ring stack, the details should complement, not clash, with one another. If your engagement ring is thoroughly modern and sleek, then a heavily detailed vintage-inspired wedding band might clash. Likewise, if your engagement ring is 18k yellow gold, avoid stacking it with a 14k rose gold band, which may scratch.
Why Should You Choose Lab-Grown Diamond Stacking Rings?
Choosing a lab-grown diamond for your diamond stacking rings ensures that your diamond rings have maximum beauty with minimal impact. VRAI created diamonds are grown in our zero-emission foundry, powered by 100% renewable energy, without human or environmental toll. The same cannot be said for mined diamonds.
We grow the world's first Carbon Neutral Certified lab-grown diamonds in-house, with no middlemen markups. This allows us to offer certified diamonds with a guaranteed origin and fully traceable supply chain at the most competitive diamond prices in the industry.
All VRAI fine jewelry designs are the result of expert craftsmanship, creativity, and innovation. Let your diamond ring stack reflect your values and your style when you choose VRAI created diamond rings.
Ring Stacking FAQs
Below you'll find the answers to any remaining questions you may have about ring stacking.
How Many Rings Should You Stack?
You can wear as many rings as you want in a ring stack. People commonly choose to stack between two and four rings on one finger.
Which Finger Do You Wear Stacking Rings?
You can stack rings on any finger, as well as at different parts of the finger, and on multiple fingers. The one exception is wedding ring stacks, which are traditionally worn on the left ring finger.
What Are the Rules for Wearing Multiple Rings?
There are no set "rules" for wearing multiple rings, but the instructions detailed above will help you create a balanced and beautiful ring stack. The only true rule for ring stacking is to avoid stacking any rings together that would cause damage.
Does Stacking Rings Make Them Tighter?
Stacking rings can make them feel tighter. The more rings you stack, the tighter they will feel. It's important to know your ring size and to only stack rings that feel comfortable to wear together.
Should Stacked Rings Be the Same Size?
Stacked rings are often not the same size because some rings are stacked on different fingers or different parts of the finger. If you plan on stacking rings on different fingers, it's important to know the ring size of each finger and to play around with how each ring feels at the different parts of your finger.
What Does Wearing Multiple Rings Mean?
Traditionally, wearing multiple rings was reserved for stacking wedding and engagement rings. Today, ring stacking is a common and popular way to express personal style. Many people choose to layer different rings to create a unique and stunning look.
Do You Stack the Wedding Band on Top or Bottom?
People typically place the engagement ring on first and then stack the wedding ring on top. However, this is entirely up to you. Certain band designs will stack better on the top or bottom, so keep that in mind when deciding how to stack your wedding and engagement ring.
Is It Okay to Stack Rings?
People often choose to stack their engagement and wedding ring so that they can wear both at the same time. Today, however, diamond ring stacking isn't reserved for those who are married. Stacking rings is a very popular way to wear jewelry and to express yourself. People also stack rings to honor certain milestones.
Can Ring Stacking Damage Your Rings?
When positioned correctly, stacking your rings should not cause any damage. To prevent damage, avoid stacking rings that have different types of gold or incompatible designs that could scratch or chip any diamonds.
Can You Mix Metals When Stacking Rings?
You can absolutely mix metals when stacking rings. This creates a unique ring stack, perfect for those with bolder tastes.
Create a Diamond Ring Stack With VRAI
Explore all VRAI fine jewelry rings featuring our lab-grown diamonds to build your dream ring stack. Explore our full online inventory of timeless yet modern, made-to-order ring designs for endless ring stacking variations, fit for any style.