The New Three Stone Engagement Ring
The Three Stone setting is perfect as an engagement ring choice as it balances both refined aesthetic and personal meaning. With the latest variety of customizable shapes and styles, our new Three Stone setting lets your unique story shine and highlights your relationship's journey. Featuring two exquisite side stones that enhance the brilliance of the VRAI created center diamond, this engagement ring reflects your past, present, and future.
The Three Stone setting is both meaningful and alluring to many. Couples might choose the three stones to represent their children, an anniversary, or an important accomplishment that they achieved together. Close friends can celebrate their bond with a three stone ring, an individual can choose this piece to celebrate their life story - the Three Stone setting is truly all-encompassing.
Read on to discover the latest selection of side stone shapes that let our Three Stone engagement rings perfectly reflect your style.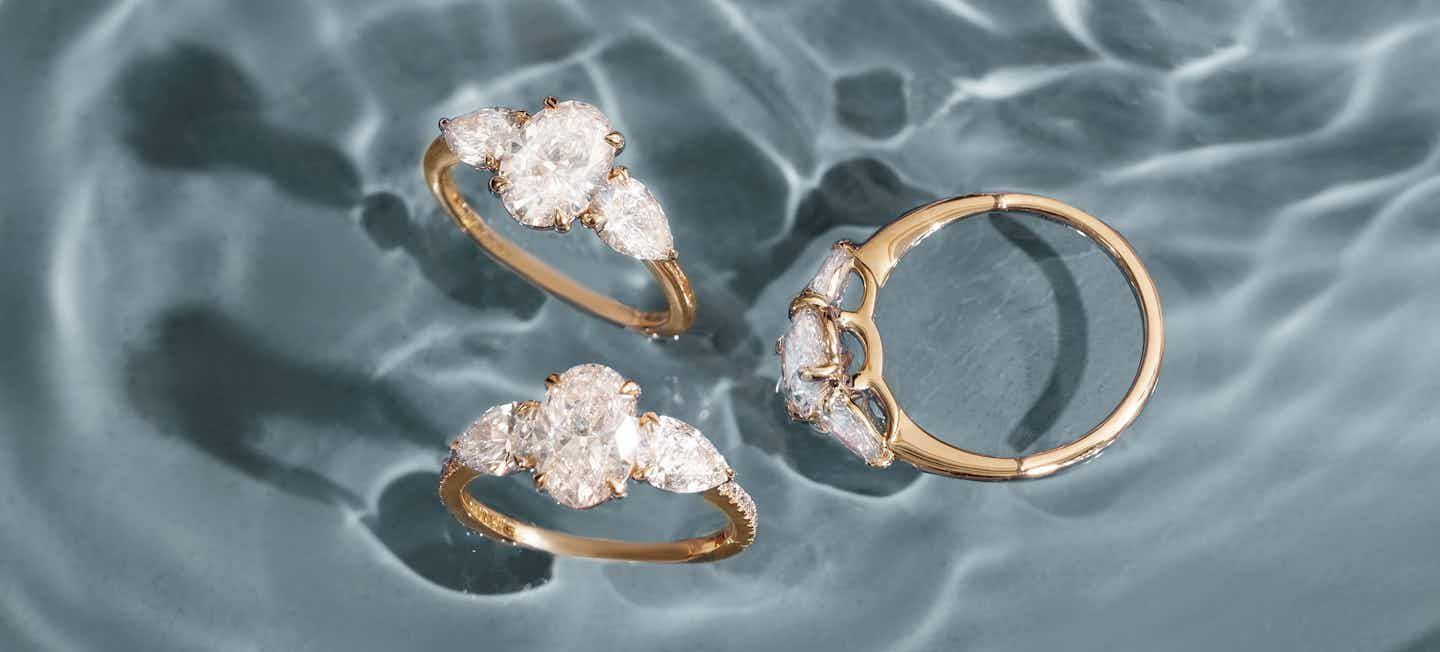 Deep emotion : The Pear
Emblematic of a teardrop, a pear cut is ideal for the individual in tune with their emotions. Its soft shape is a blend of a round and marquise cut that is tapered to perfection, producing a balance of proportion and depth. The association of the teardrop shape with water makes this a lovely cut for those with close ties to the ocean, or those wishing to celebrate deeply sentimental moments such as an engagement, the birth of a child, or a personal accomplishment.
The combination of two pear-shaped side diamonds embracing your choice of center oval, round, emerald, or marquise cut stone results in multiple interpretations of this meaningful style.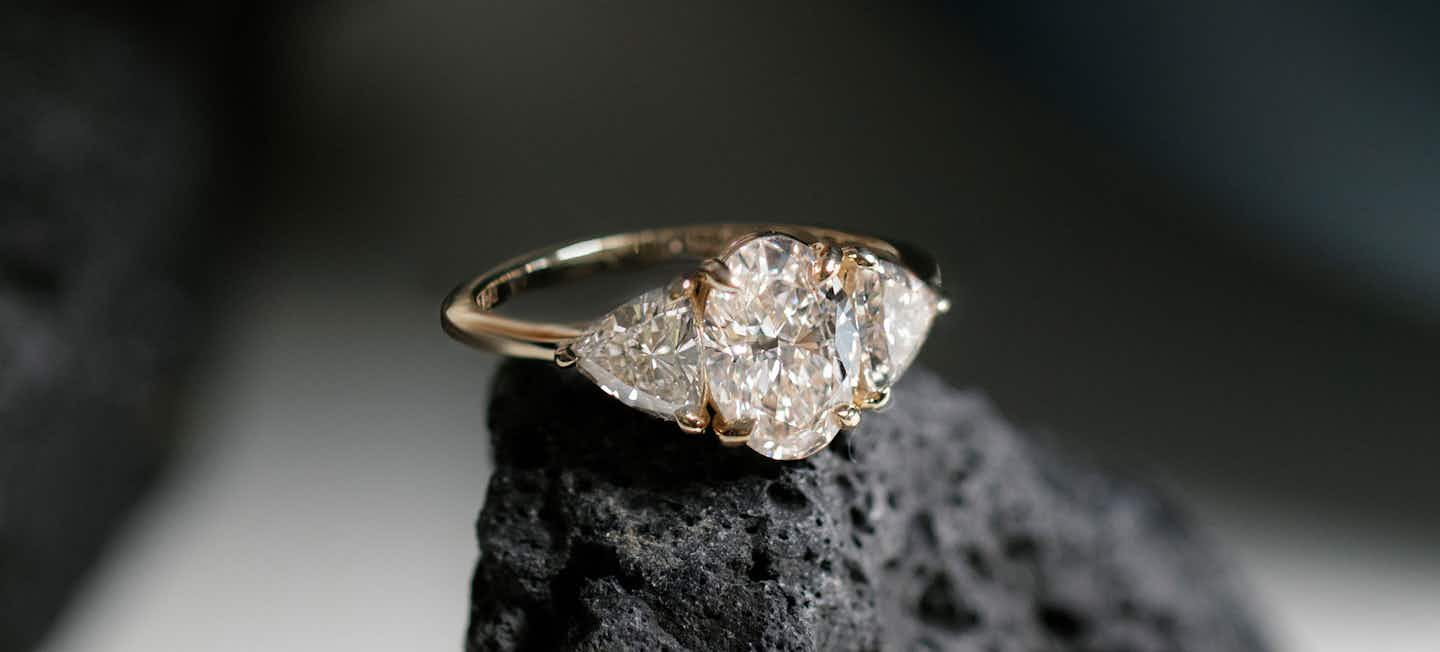 Element of surprise: The Trillion
A thoroughly modern shape, our trillion cut is at once soft and sharp. The blend of curved lines and exquisite edges is both captivating and unexpected, and creates a fiery brilliance. The three equal sides can have instant intellectual appeal and symbolism, perfect for wearers with an eye for geometric shapes.
Trillion side stones that support your choice of a center round brilliant, emerald, cushion, or oval diamond cuts create a striking, contemporary look that is bold and surprisingly unique.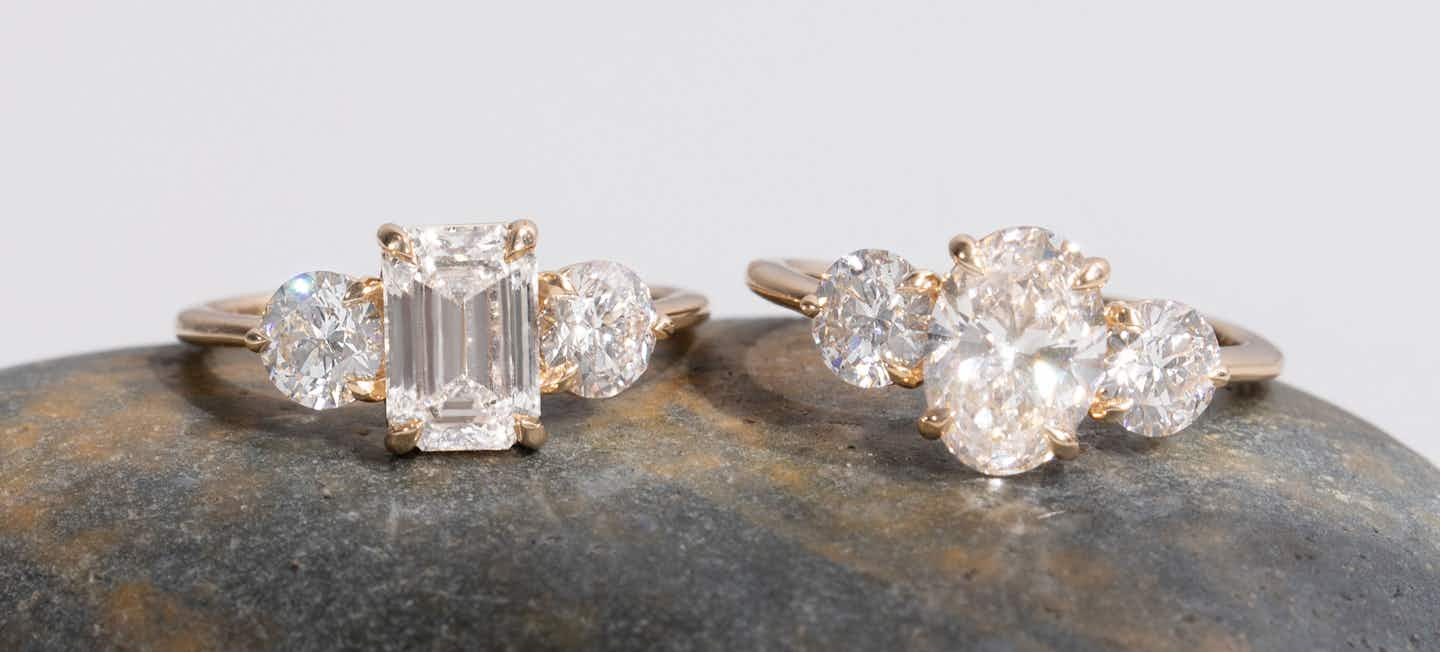 Optimal light: The Round Brilliant
For the person who lights up every room they enter, the round brilliant cut is the embodiment of brilliance perfected. Its scintillating shape contains triangular and kite-shaped facets that spread outward from its center, capturing and bouncing light in every direction.
The round brilliant Three Stone engagement ring is ideal for those with a more classic, timeless style. But when paired with a pave band, its fire is striking. A round brilliant cut can be at both the center of a setting or used as side stones, making it one of the most versatile cuts.